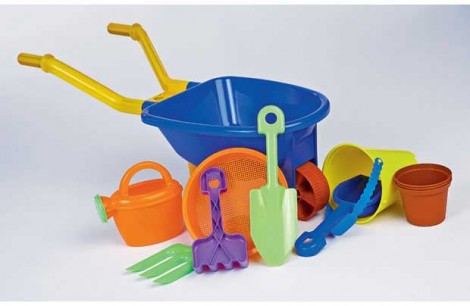 Sometimes it's the simple toys that can provide the most enjoyment.  Don't believe me?  The 77 reviewers of this wheelbarrow set over at Argos agree with me...
Brace yourselves everyone because it's supposed to be (dare I even say it) a LOVELY and WARM weekend, HURRAH!  So if you live near the coast or intend to get out and do all those garden jobs that have had to wait thus far then this could be just the thing for your little one/ones.
From the moment they could walk all my kids have wanted to 'help' me in the garden; watching them trying to manhandle the tools and wheelbarrow was funny on the one hand and utterly terrifying on the other!
Then frustration would set in because they couldn't do the things I was doing and all of a sudden my gardening plans were thwarted as I had to find alternative entertainment for unhappy toddlers, until the arrival of something very similar to this kiddy wheelbarrow set.
It was perfect!  The kids could grub around with the tools and push 'stuff' around in the wheelbarrow; they were happy, I was happy and whilst I confess they were still not much help in the garden they were amused enough for me to be able to get on with my own gardening.
Argos have reduced this wheelbarrow set from £9.99 to £4.99 - you can reserve and collect for free from your nearest store (or any store that takes your fancy in fact!) or pay for standard delivery which is a whopping £5.95, so I'd avoid that if I were you!
Thanks to haylhoo over at HUKD!