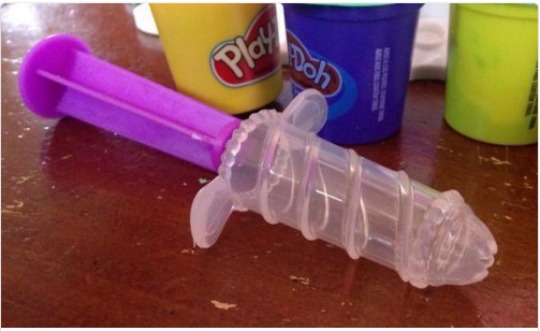 If your kids got a Play Doh Sweet Shoppe Cake Mountain set this Christmas then with it will have been the 'accessory' in the picture above. Now to the kids that's just a tube to squeeze play doh through to make pretend cake icing, but what does it look like to some grown ups? Exactly. And especially when it's filled with pink Play Doh apparently!
Lots of parents were shocked when this popped out of the Play Doh box on Christmas morning, and many have expressed amazement that it managed to get past the quality control teams - you have got to wonder what on earth they were thinking the day they approved that design!
Some of the parents have already complained direct to the toy makers Hasbro, who it seems will be offering replacement 'parts' to any who request them.
Other parents have said that it is silly to make a fuss as children will not see the toy as phallic in any way at all, it's just the adults who have made the connection. We'd love to know what you think (and keep it clean please!) ;)
So did your kids get this set for Christmas? If so, this is how you use it...