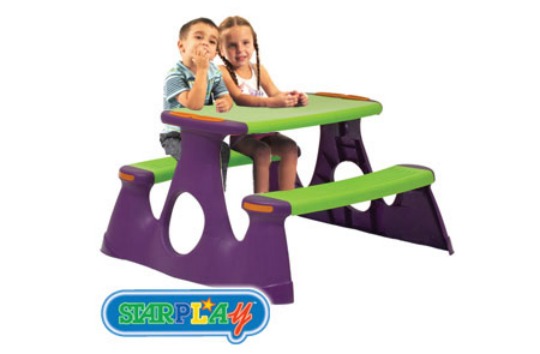 We're all hoping for some good weather this Easter holiday so we can get out on the garden, and I've already been asked if we can have tea outside, do homework outside... the kids just don't want to come in! This is another great buy from Home Bargains that might help. The Starplay Children's Picnic Bench is £19.99, and that's the same price it has been for the last 2 years!
It's a sturdy plastic picnic style bench in bright colours that comes flat packed.It's suitable for use from 18 months of age, but the children in the picture look considerably older than that, so I imagine it would be fine for older children as well. It looks like it would be ideal for eating outside, as well as colouring and playing games, and being plastic it will be easy to keep clean as well.
Strangely this item is Click and Collect only, and cannot be delivered, but this service is free. If you're lucky enough to live near a Home Bargains then this Starplay Picnic Bench looks like a great value kids bench for the garden.