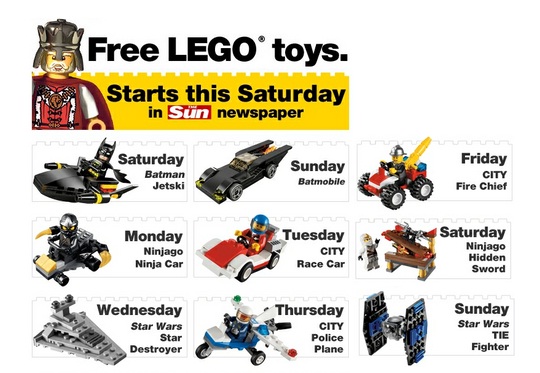 Lego is expensive stuff, so any chance to get some free or cheap Lego is always welcome. Even if it does involve the Sun newspaper! It is the Sun giveaway time again. Free Lego packs are being given away with every issue starting today, the 19th of May, and running until the 27th of May.
To get this freebie, you need to either buy or get hold of a Sun newspaper. The newspaper costs 50p. Or at least it did today when I bought one in order to get this deal. I've never bought a Sun before so no idea if that's the normal price or not!
The voucher was on page 4 of the TV Biz pages in the middle of the newspaper. Take the voucher to either a WH Smith's or a Toys R Us.  Today's Lego toy is the Batman Jetski. Be quick though as when they ran this promotion last time a lot of stores very quickly ran out of toys.
You don't need to spend money. Chances are if you ask around you're bound to find someone who buys this paper and doesn't need the voucher. Last time, when they did the Pirate's of the Caribbean one, my husbands workmates all collected them for him. My son ended up with about six of each toy!
Here's the full list:
Saturday: Batman Jetski
Sunday: Batmobile
Monday: Ninjago Ninja Car
Tuesday: City race car
Wednesday: Star Wars Star Destroyer
Thursday: City Police Plane
Friday: City fire chief
Saturday: Ninjago Hidden Sword
Sunday: Star Wars TIE fighter
 Thanks to agent_C at HUKD!