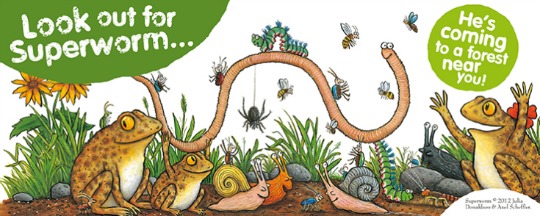 Superworm is super-long. Superworm is super-strong. Watch him wiggle! See him squirm! Hip, hip, hooray for SUPERWORM! Aww who doesn't love Julia Donaldson?
If you remember how HUGELY popular the Gruffalo trails were last year you may be interested to hear what's next from the Forestry Commssion, especially with the Easter holidays approaching as not only do the new Superworm trails look a whole load of fun for little ones, best of all they're totally FREE.
The trails started on March 13th and will run right through until the end of October and you can also sign up for free activity sheets on the link above.
The trails are located in :
North West
Grizedale Forest, Cumbria
Whinlatter Forest, Cumbria
North East
Hamsterley Forest, Durham
Kielder Forest and Water Park, Northumberland
Yorkshire and Humber
Dalby Forest, Yorkshire
Guisborough Forest, North Yorkshire
East Midlands
Sherwood Pines, Nottinghamshire
Fineshade Woods, Northamptonshire
Hicks Lodge, Leicestershire
West Midlands
Cannock Chase Forest, Staffordshire
Wyre Forest, Shropshire
 East England
High Lodge Thetford Forest, Norfolk
South West
Beechenhurst Lodge Forest of Dean, Gloucestershire
Cardinham Woods, Cornwall
South East
Wendover Woods, Buckinghamshire
Bolderwood the New Forest, Hampshire
Moors Valley Country Park, Dorset
Bedgebury Pinetum, Kent
Jeskyns, Kent
Thames Chase, Essex
Normal park opening times will apply and you can find out more about your nearest location on the link above. Aimed at little ones between the ages of 3 and 8, you'll be able to buy an activity pack at your chosen venue and that will cost £3.50. These include a mini Superworm book, trail leaflet with extra activities and string to make your own Superworm hero. There's obviously no obligation to buy these but just something to be aware of.
Maybe get together with some friends and plan a day out over the Easter holidays? Most kids love Juila Donaldson and this does look like a chance to get out and about and best of all it's FREE