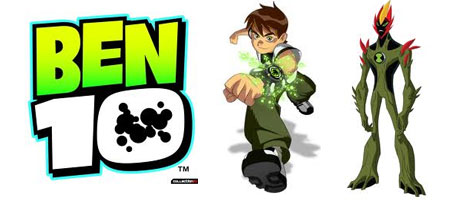 If you can bring yourself to buy the wonderfully informative example of journalistic literature that is The Sunday Mirror today, then you'll bag your child a free copy of a Ben 10 magazine.
My youngest is a huge Ben 10 fan and his fantatisism seems to have appeared out of nowhere!  Where did he suddenly acquire all of his Ben 10 knowledge from?
Not only that, it turns out the Teenagers know the ins and outs of Ben 10 too - surely 15 and 16 year olds aren't discussing the merits of the latest epsiode of the alien-fighting boy superhero are they?
It beats me, but I have been going on a steep learning curve lately and can now, just about, identify Swampfire and Humongosaur! GO ME!
Kids magazines are expensive at between £3 and £4 a go, so I thought you might appreciate this deal - even though it means you're going to have to physically leave the house and buy a newspaper for 70p ish to get it.
Better still, get someone else to nab you a copy when THEY go out - then they can face the shame of buying the Sunday Mirror.
Failing that - nip past Tescos, or somewhere, first,  grab a cheap Halloween disguise and put it in - then no one will know it's you clutching your copy of a red top 'news'paper complete with Ben 10 magazine!
Thanks to lucerysmum over at HUKD