Kids 6 Piece Drum Kit £34.97 @ Tesco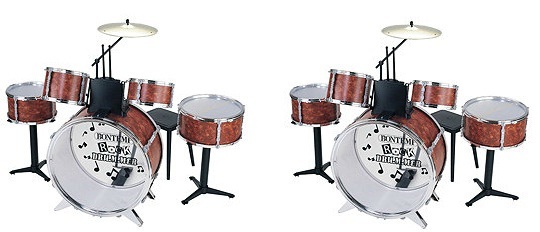 Tesco is selling the Bontempi JD4830 six piece drum set and stool for a mere £34.97. That seems like a really good deal for a drum kit, especially if junior isn't sure whether or not they're going to stick with it as a hobby. May need to spend more on a sound-proof room though…
Get ready to rock and roll like a true music star with the Bontempi six piece drum kit. Your kids should have plenty of fun practising their drum beats and solos on this cool kit. Included in the drum kit is a bass drum, three side drums, cymbals and a snare drum. There is also a stool and drum sticks included.
The set is suitable for kids over the age of three but unlikely to produce any kind of spectacular sound. I imagine that real musicians seeing this deal are probably dying a little inside. Still, it would make an ace pressie for a kid who wants to rock.
Thanks to jayley21 at HUKD!