Kidkraft Grand Gourmet Corner Kitchen £132.59 Delivered @ Amazon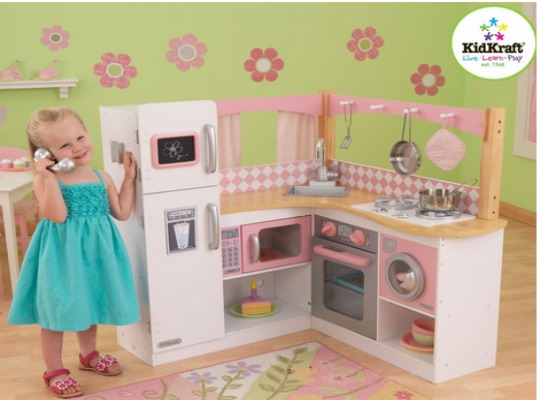 The Kidkraft Grand Gourmet Corner Kitchen has to be one of the most impressive play kitchens I have ever clapped eyes on. Look at it! Forget the kids, I WANT ONE! Amazon reckons the RRP of these is £310.80 but I have only ever seen them on sale for around the £200 mark. The good news is Amazon are selling it for just £132.59 with FREE delivery. What a great price for such an impressive play kitchen!
You will need a LOT of room to accommodate the Kidkraft Grand Gourmet Kitchen. Luckily, it does slot tidily into the corner of a room. I think this is the stuff that dreams are made of. Granted it's not the cheapest play kitchen on the market but it is the creme de la creme. It's made of MDF so will be as sturdy as IKEA furniture I would imagine.
It's big enough for two or three children to play with at once, so if you have kids of similar ages then this is ideal. The Dishwasher, Oven, Microwave, Fridge Freezer doors can all open and shut. It includes four metal accessories, one of which is a pot. The sink is removable should it need cleaned.
;