Kiddies Bon Appetit Kitchen Only £39.95 @ Prezzy Box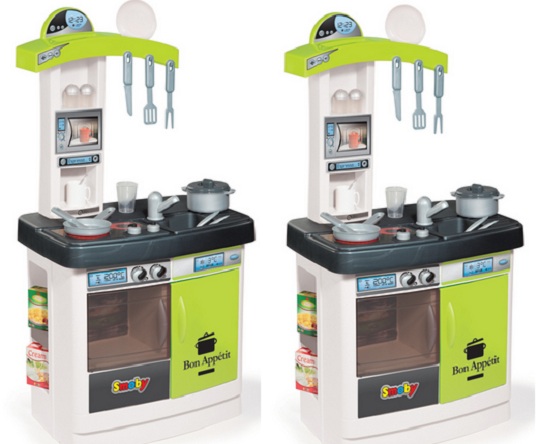 Your budding Jamie Oliver will love this Bon Appetit Kitchen by Smoby Toys Description from Prezzy Box and you'll love the discounted price of just £39.95. Previously £44.99 this realistic mini kitchen offers hours of entertainment at an affordable price. Standard UK delivery is charged at £3.95 via Hermes .
Little your mini Nigella and Heston hone their skills with the realistic mini kitchen and utensils of the Bob Appetit Kitchen. What's even better is that the mini kitchen really is a space saving dream as it's super compact.
I bought one for my daughter and was AMAZED at how many little boys make a bee-line to play with it when they come over for a playdate! It comes complete with an oven and a fridge on the front, 2 hot-plates and numerous shelves. The chic design has a modern tap, new buttons, microwave sticker and very realistic stickers. It comes with the following accessories:
1 plate
1 glass
1 cup
1 cutlery set
1 utensil set
1 stewpan
1 frying pan
1 salt
1 pepper
1 phone
2 food boxes