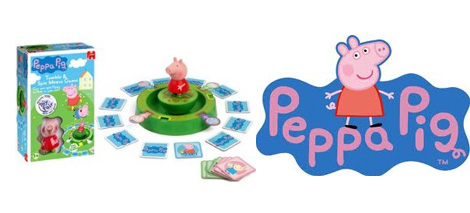 Amazon has a 25% sale on selected Jumbo Games in its special offers this week. The games include the Peppa Pig Tumble & Spin Electronic Memory Game, reduced from £12.99 to £9.48.
Jigsaw puzzles included in the offer are Guess with Jess, Peppa Pig, Fireman Sam, Disney Handy Manny 53 Piece Giant Acitivty Floor Jigsaw Puzzle, and the Peppa Pig Giant 24 Piece Rocket Floor Jigsaw Puzzle.
The games that are part of the special offer, as well as the Peppa Pig Tumble and Spin Electronic Memory game are the Peppa Pig Jumping Pigs Game and Ben & Holly's Little Kingdom Lotto Game.
This is a fairly good discount, and handy if you need to buy one of these puzzles or games right now. If you can wait though, especially if you're looking to stock up for Christmas or for the birthday present drawer, then I would do so.
The Peppa Pig Tumble & Spin game, for example, has been on sale for around £6.50 at both Amazon and Play.com before, so it is likely it will take a dip again.
It is a hard call to make. I find that I forget to keep checking for better bargains throughout the year so go for it when I do find a discount. Do you have any tips or tricks you'd like to share for keeping on top of finding the lowest bargain price possible?