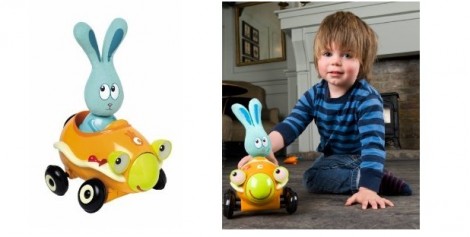 JoJo is a blue, interactive bunny. We reviewed the JoJo Hide and Seek bunny a couple of months ago. It did not fare well. So it was a mixed reaction when Jumbo sent us a  JoJo Car. Did we really want to put ourselves through that sort of disappointment again?
With some trepidation, we gave the car to our reviewer Kim and her (now) 14-month old daughter to try out. Here's the manufacturer's description of this product: "JoJo really springs into action with the new JoJo Car, which can zoom around your front room with music, flashing headlights and wobbly wheels.  But look out, if it hits an object you will hear the crash and JoJo will bounce from the car causing your child to hop with laughter!"

Kim wasn't terribly sure she wanted to review another JoJo product either. She wasn't sure what to expect as she hadn't been overly impressed with the last toy. However, this time around she was pleasantly surprised.  "This Jojo car is great and one of my daughter's favourite toys of the moment. .. and one of mine too. It was a lot easier to get out of the box than the last toy from Jumbo and it came with batteries already in it so it was ready to play with when taken out of the box. That  was perfect as my daughter was desperate to play with the toy."
When you press the JoJo bunny down the car goes 'vroom vroom' and then says 'let's go!' before it wobbles off round the room while playing a selection of fun songs. Kim's favourite was  'I like to travel in my car!' Her daughter loved chasing it.
There was more fun. "When he hits a hard object like a wall or door," Kim explains. "Jojo is ejected accompanied by the sound of 'Too fast! Crashing sound, Springing sound and Ow,ow,ouch!' and the headlights flashing red..." What kid, young or grown up, wouldn't love that?
The instruction leaflet says there are 8 melodies. To change songs you press the little  button on the top of the car and the next time the car drives off a different melody is played.  There is a normal speed and a fast speed version of  Jojo singing 'I like to travel in my car' .  As far as Kim could tell the melodies that have no singing include Wheels on the bus, Row row row your boat, She'll be coming down the mountain, London bridge is falling down and Pop goes the weasel. There are no words, just music so perfect to teach your little one the words so they can sing along.
Perhaps a song sheet would be a good idea though? "I do believe I have spent too long sitting here trying to guess the nursery rhymes though" Kim says. "But it is so annoying knowing that I know the songs but just can't think of the names." If you buy this toy then it might be a good idea to look up the words on the internet beforehand!
"My only faults with the product" Kim goes on to say, "are that there is a spelling mistake on the box (it says the engine is huming instead of humming) and that I think it would have been good for the car to have an off button. Just to avoid the toy speaking out from the depths of the toy box when the 'nose' of the car gets prodded. When this happens it then says 'too fast, ow, ow, ouch!' and the lights start flashing. Less noisy and plus, it would help conserve battery life."
And Finally ...
What was Kim's final verdict? "Overall I would say that the fact my daughter gets this toy out to play with every time anyone visits our house is a sure sign that she loves it. The voice on this car is so lovely and endearing...I really do love this toy and I would highly recommend it to everyone." I think that means it was a winner!

The SRP is £19.99, and it is available at Amazon for that.  It is also sold in Toys R Us and Argos. Kim felt that it was especially well worth the money for the fact that you get to have some peace while little one plays along with it.  To be honest anything that makes little one run around and use up all that toddler energy would be a welcome addition to my home!