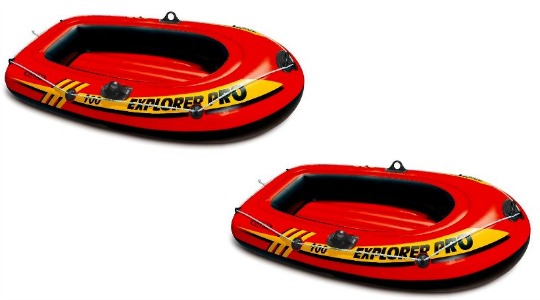 With the spring passing quickly, it won't be long until it's actually fun to be outdoors. Okay, so we rarely get sun splitting pavement weather but it's warm enough to have a wee splash in the water, right? This John Adams Leisure Explorer Pro 100 Boat is what I would call a dinghy, you know an inflatable boat. Amazon have cut the price of it to just £4.90 just now to copy Tesco Direct, where it sold out VERY quickly. There's a two-four week wait on these but chances are you won't use it until the better weather anyway.
I am no inflatable boat expert but this seems ever so cheap for such a fun bit of kit. Who doesn't love splashing about in freezing cold water? This John Adams Leisure Explorer Pro 100 Boat can accommodate ONE person at a team weighing up to 80kg.
It has a I-beam construction which is apparently durable. The description suggests it is quick to inflate and just as fat to deflate  with the Boston valve on main hull chamber.
As always be safe with these things. Open water like rivers or sea might seem okay to play in but just make sure you know what you are doing.
Delivery is at a charge of £3.30 postage or FREE if you spend £10 and over.
Thanks to Graydox @ HUKD