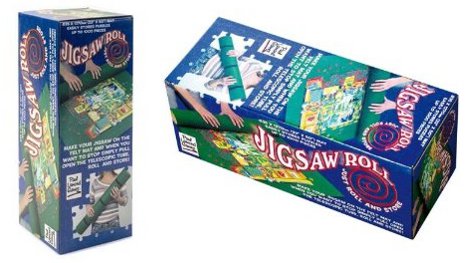 The jigsaw roll at Amazon is £5.69, which is 43% off from the normal £9.99. It's £7.95 at J.L.S so this is pretty good.
It's the age old problem – you've built a puzzle and it looks great. Now, what do you do with it? Or worse – you've gotten half way through building a puzzle, but your holiday has come to an end and now it's just lying there.  You know what I'm talking about right?
So this puzzle storage solution is quite simple – which is what some of the reviewers on Amazon really don't like about it. It's a felt mat with a 'telescope tube' for you to roll and store your puzzle away.
Apparently it's big enough for up to and including a 2000 piece puzzle at 835 x 1270 mm.
Now, the reviewers, have very mixed thoughts on this. Some say it was just a piece of felt with a roll like a toilet roll with some elastic bands. A few mentioned that it had to be ironed first as it arrived very creased.
Others say it is a 'great practical item' and 'does what it says on the box'.
Up to you to decide then, but if it works, it would be a great solution!