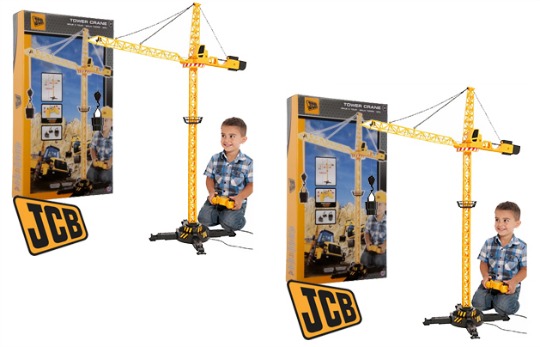 The JCB Remote Controlled Crane is only £9.99 from Home Bargains. Let me tell you that at that price it's an absolute bargain. We were actually gifted one for the boys and they LOVE it. Honestly if you have £10 budget for a little ones birthday present then this is THE toy to buy. You will be labelled a legend for getting this, trust me.
I reckon the JCB Remote Controlled Crane is suitable for children over three years old, but do keep an eye on the kids when they are playing with it as it's a big toy.
The remote control can make the crane move left to right and lower the hook. If you know someone who likes diggers and such like then this will be their favourite toy. No shadow of a doubt.
As well as the Crane and Remote Control you also get extendible legs to prevent any toppling and three Crane Accessories. The crane can attach the little accessories to the hook and can be lowered and lifted using the control.
You can collect this for FREE from your local Home Bargains store or pay £3.49 for home delivery.