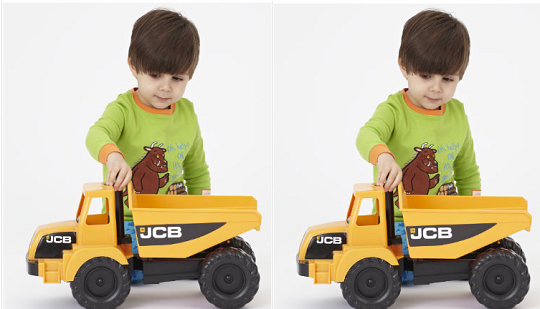 A very cute little deal right here. You don't pay that pesky full price for the JCB dump truck at ELC, oh no, you get half off and pay a mere £12.50. Have a tot with a penchant for trucks? This could be their next birthday pressie.
Handling the JCB dump truck is a great way to strengthen little fingers, and boosts hand-to-eye coordination skills as your little one practises steering the truck around as they roll it along the ground. It's also great for inspiring the imagination, so your little one can make up lots of trucking adventures.
The truck is big and chunky for little hands with free-moving wheels and a tipping compartment too. It is a simple, yet classic, toy that will definitely win favour with kids of all ages, sizes and genders. Who doesn't love driving toys around? I still want to play with them myself.
Thanks to kikas at HUKD!