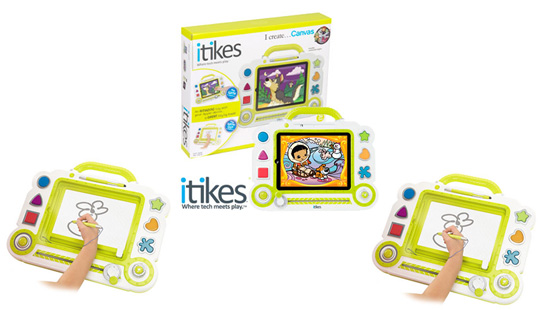 Home Bargains are selling this iTikes Create Canvas for £17.99 rather than £39.99.
If you don't like the mess that comes with real live paint on paper, then maybe you should take a look at the iTike Create Canvas. You can add an iPad to it and download the free App - this will expand play and by adding more artistic tools, magic colouring pages, along with some interactive games. The iTikes Create Canvas also features plenty of sound effects to add an extra play dimension.
When you press the shapes on the side of the canvas it will magically 'stamp' that shape onto your work of art. When your young Picasso has finished they can save and share their masterpiece, online, with family and friends.
It doesn't look as though you can arrange to collect your iTikes Create Canvas from any Home Bargains store, so you're going to have to part with a few extra pounds for home delivery.
Happy canvas creating!