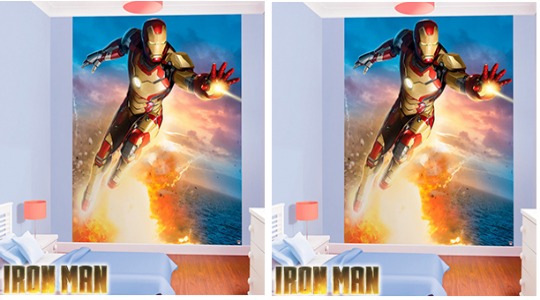 We're in the Chrimbo Limbo* period between Christmas and New Year, and for some of us New Year means the start of a spring cleaning and decorating period...or is that just me? When the decorations come down I look around at the house and feel that it needs smartening up. My 5 year old's room needs some work to freshen it up, and this Iron Man 3 Walltastic Mural from Home Bargains might just do the trick.
It's covers a wall 8ft by 6.5ft, and is a wallpaper backed mural that comes in 8 rolls so that it can be easily applied to the wall. There's even an instructional video to show you how. It looks like a really effective way of covering a wall in a child's bedroom, and at £9.99 is way more cost effective than ordinary wallpaper or posters.
The RRP on these is £39.99, and although that does seem a little high most designs do come in around the £30 mark in other retailers. Home Bargains also sell the Frozen version for £29.99 too.
Home Bargains charge around £3.49 for a package this size, depending on your location, but even with that added this is great price. They should also have these available in stores, but that can be a bit hit and miss depending on the size of your local branch. This is a new product though, so chances are it's only just being put out.
Big thanks to wiggywig @ HUKD
*Maria McErlane, who helped entertain me on the long car journey home today. Thanks x