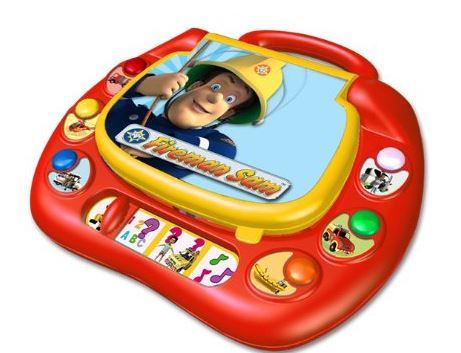 The Inspiration Works Fireman Sam My First Laptop at Amazon is reduced from an RRP of £24.99 to £14, a £10.99 saving. It's over £10 so free delivery too.
My daughter loved her first laptop back in the day, but after leaving it out in the rain one night, it was never the same again and I'm in the market for another. This seems like a pretty good price, really.
Your little one can follow Fireman Sam in one of his exciting missions with this fun, educational laptop.
They will learn to recognise numbers and quantities, colours, sounds, your ABC and Fireman Sam characters.
There are a number of game they can play, like the the Discovery game. Or they can take the quiz, before setting up to the advanced quiz or playing the music game.
Use the six backlit Fireman Sam characters on the screen to match with the chunky easy to handle buttons on the keyboard, press the right button to get a sound effect or tune. Use the six vehicle buttons, including Jupiter, surrounding the keyboard and the music and sound keys to play the games and have fun.
The Inpiration Works Fireman Sam My First Laptop is suitable for children from the age of eighteen months.