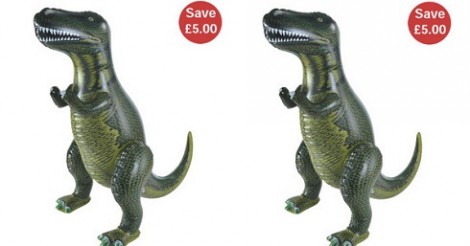 Here's a great one to keep for future parties. The ELC has reduced the price of this Inflatable T-Rex by 50%, from £10 to £5.
The website had a lot of fun writing up the product description for this toy. It says "I'll huff and I'll puff and I'll blow up T-Rex until he's bigger than me." Oh dear they must have been struggling a bit!
I guess there's not a lot to say about a a blow up toy, as well, you blow it up and that's it. If you've got a dinosaur mad child though, this sort of thing is quite a bit of fun. I've never really understand the fascination with blow up toys. Recently at a party my son spent most of his time playing with a blow up flamingo (or the pink goose as he kept calling it). He also has a treasured blow up Tardis at home, blow up pirate swords, and a large blow up ball that we get out in the summer time.
This toy is recommended for ages 3 to 8. Delivery costs £4.95, so don't forget to factor this in when you decide whether it makes more sense to buy online or go into a store (call first to make sure they have stock though!).
There are three customer reviews on the site and they all give it five stars. As one reviewer comments "bought this for my son for his 4th birthday recently. He loves it. It is quite big which is a bit of a novelty. Have had it for a couple of weeks now and it's still in one piece which is a good sign considering the way my son treats some of his toys".