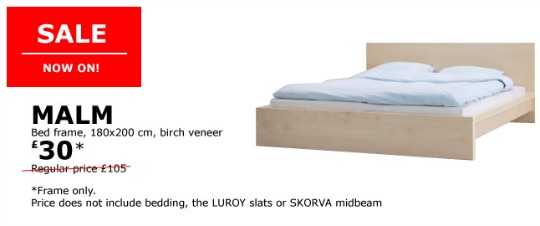 For those of you who love Ikea it's time to head to stores for the big summer sale which  has started TODAY! There are massive discounts on loads of home furnishings, and from what I have just looked at it's definitely worth a trip.
PLUS if you have an Ikea Family card you get an extra 10% off sale prices! Even if you don't already have one of the free cards you can pick up a temporary one in store and automatically get your 10% extra off sale prices - all it takes is your name and email.
The Sale offers are different in each store, so you will need to select your local store to see highlights of what they have. When I looks at mine just now there were mirrors for 75p and a double bed frame for £30! Pretty impressive.
To be honest we never need persuading to take a trip to Ikea anyway - we get the £1.50 cooked breakfast with free tea and coffee with the Family Card while the kids use the play area. :)
The Ikea Sale is in stores only from today until 5th July, and remember to pick up a temporary Ikea Family Card for your extra 10% off!