The Hut got in touch with us recently and asked us to be one of their 'Official Toy Testers' - sounds grand doesn't it! - as we're at the forefront of parent/mummy blogging; hurrah!
We love toys here at PlayPennies so we weren't going to turn them down and eagerly awaited our parcel from The Hut.
The first thing out of the box was aa Barbie Glitter Vacuum and doll, followed by a Monster High Doll gift set.
At this point I was very glad my daughter, at nearly 16, is far too old for this and the boys...well, at 17 and 5  it's just not their thing - so we shipped everything off to Tanya, one of our faithful PlayPennies mums.
Barbie Glitter Vacuum and Doll - £19.99
I must confess to crying with laughter when Tanya told me about her experience with the Barbie Glitter Vacuum and Doll and I WISH I could just repeat it verbatim for you; honestly, it was too funny.
So you have a Barbie doll, some glitter, some sticker sheets and a proper working mini vacuum cleaner to clear up any mess - it's the word mess that strikes fear into my heart and I take my hat off to any parent brave enough to face such things head on.
Tanya told us that the vacuum cleaner is very PINK - nothing else is good enough for Barbie - and that there was also a scoop for the glitter and two changes of clothes for Barbie.
The general idea is you take Barbie and put one of her dresses on, then you get a sticker and stick it on the aforementioned dress. Scoop some glitter with the scoop, pour it over the sticker, vacuum up excess glitter and repeat until Barbie has a beautiful glittery dress to rival the Duchess of Cambridge's wedding dress.
Here are the edited highlights of Tanya's experience...
"It took me 13 minutes to get Barbie out of her box, I know this because I was making dinner and removed her whilst the timer took care of the noodles."
The ability to multi-task is clearly going to be an advantage here.
"Next," said Tanya, "I look at the vacuum cleaner and realise it needs 3x AAA batteries. So it was off to the shop to get them, came home and inserted them. THEN I had to watch as my child poured glitter all over table but felt safe in the knowledge that it could all be sucked up with the mini vacuum cleaner, complete with its new batteries."
Tanya was bemused when she discovered the mini vacuum cleaner didn't yield the promised results, until her husband pointed out that she was trying to use it upside down.
"Feeling rather stupid I turned the vacuum cleaner the right way round and did indeed suck up glitter; all hope was restored."
The next stage was for Tanya's daughter to get busy with the stickers.  She duly removed one from the sheet but it got stuck to her as they are, obviously, sticky on both sides so it can stick to Barbie with one and grab hold of glitter with the other. This caused warping of the sticker and tears from her daughter.
Thankfully, sticker removal attempt number two was more successful and Babie's dress was adorned; now for the GLITTER!
"Glitter was promptly poured onto Barbie and then vacuumed up. Yes, the vacuum cleaner DOES work, quite impressively for a toy too. Not for use on floor or sofa - yes, I tried!" Tanya confessed.
Barbie Glitter Vacuum and Doll also comes with a diamond cut pot for emptying your vacuum cleaner into when it's full of glitter.
"I  followed the 'empty glitter out of cleaner and into diamond cut pot that sits snuggly on top' instructions. I shook it the way it said I should and peeked into the pot,"
Tanya told us she was sure she'd sucked up half a packet of glitter but there were no more than two sparkles in the pot!
"I banged the vacuum on table and could only come to the conclusion that the glitter must have disappeared into a black hole within vacuum cleaner!"
Shame, the whole Barbie Glitter Vacuum experience didn't get any better for Tanya. Her daughter decided the stickers were much better stuck to the table and the vacuum, again, seemed to 'eat' the sucked up glitter when dinner replaced Barbie.
Tanya concluded her review of the Barbie Glitter Vacuum and Doll by telling us she spent the rest of the night rocking backwards and forwards in the corner crying and twitching at the word " glitter".
Monster High Doll Gift Set - £23.99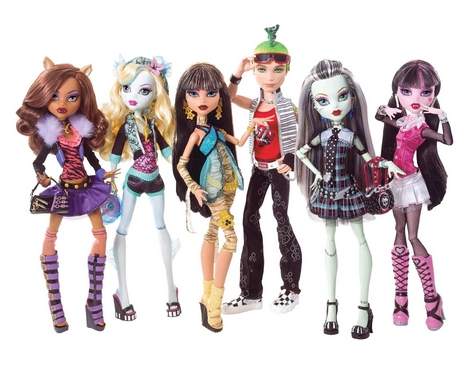 You obviously have to have children of a certain age to have even the vaguest clue what these Monster High dolls are all about.
A quick bit of Googling (what did we do pre-Google?!) reveals that they are a cast of characters created by Mattel and launched in the summer of last year.
They are the offspring, or descendants, of various well-known characters from horror stories, such as Dracula, Medusa, the Creature from the Black Lagoon, Werewolves and Zombies.
The age guidance is six years plus; my youngest is five and I've never heard of them but then I'm not sure this a boys 'thing'.  So, again, we bundled these guys in the post and sent them on their way to Tanya.
"Two doe-eyed plastic dolls greeted us out of the box," reported Tanya - at least they didn't come with vacuum cleaners and glitter! - "and whilst my daughter had no clue who 'Cleo de Nile' and 'Deuce Gorgan' are, she was still more than happy to play with them."
I think we can safely assume that Deuce Gorgan is related to Medusa as he has a few snakes for hair and apparently, he and Cleo de Nile are the coolest kids at Monster High; good for them.
They don't actually DO anything, although they do have the obligatory jointed arms and legs, so their entertainment value is all down to how imaginative and into 'character' your child can get.
They each come with a pet and an accessory:  Cleo has a snake called Hissette and comes with gold purse, whilst Deuce has a pet rat called Perseus and comes with a cool pair of  'shades' (sunglasses clearly isn't the cool term!).
"Cleo comes with hair that you can brush," Tanya told us, "my daughter spent a lot of time brushing her hair and making it look pretty; anything to keep her away from Barbie!"
And Finally...

Whilst Tanya's experience with the Barbie Glitter Vacuum and Doll didn't go well, don't necessarily let that put you off.
Barbie did exactly what she said on the 'tin' and if all else fails you'll have a mini vacuum cleaner that will be good for sucking up things like spilled sugar or salt from the kitchen worktop.
She didn't break and Tanya's daughter had a blast playing with her, once the initial sitcker sticking on skin drama was out of the way.
The Monster High dolls will, obviously, appeal to Monster High fans but any child who likes playing with dolls will enjoy playing with these guys.
Incidentally, at the time of writing the £23.99 price tag for Cleo de Nile and Deuce Gorgan is a reduced one, their usual rrp is £39.99;  if they appeal to you and you buy them now, then you'll have saved yourself 40%; that's what we like!