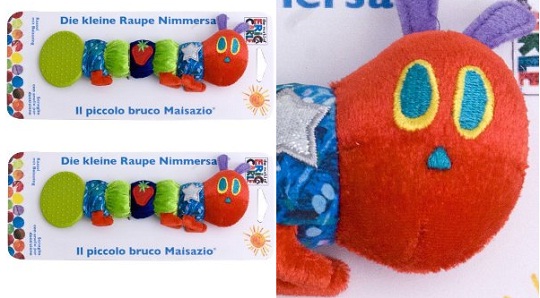 Maybe it is the way the words make your voice sound, or the clear white pages with bold bright colours, or the really happy, beautiful ending. But even before he could focus properly my son seemed to just love having the Very Hungry Caterpillar read to him. Amazon has reduced the Very Hungry Caterpillar Teether Rattle down to £5. This is one of the cheapest prices I've seen this rattle available for. At Play.com it is now £7.99, although this includes delivery. Delivery at Amazon is free on this if you have Amazon Prime.
The World of Eric Carle The Very Hungry Caterpillar celebrates its 40th Anniversary this year. I had no idea it had first been published so long ago. That's nearly as old as me!
The colourful teether rattle has different textures and embroidery for baby to chew. It is easy for baby to grip and rattles when shaken. It is washable. Established in 1971, Rainbow Designs specialise in the production and distribution of  children's gifts.
Most reviewers on the site give this a four or five star rating. This is typical of the comments. "A beautiful toy. The rattle is in the head end, the teether is the rubber tail. This means to use the teether in the mouth, the baby holds the rattle - so it no longer rattles. Essentially double ended - but it only works one at a time really."
Thanks to Syzable at HUKD!