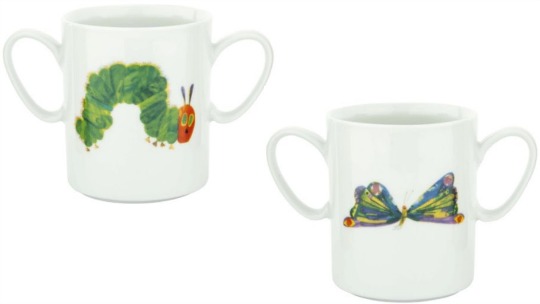 The Hungry Caterpillar Double Handled Porcelain Mug is only £2.50 at Tesco Direct and it's great for that price. The original price is £10 for this mug and these are collectable. I have Hungry Caterpillar items from when my eldest was born and they are just lovely. This is by far the cheapest you will find this adorable mug. My local Ironmongers sold these and I can tell you that they were not £2.50.
Made by Royal Worcester, this special mug is ideal for a new baby. My Hungry Caterpillar Porcelain came in a lovely gift box so I would expect this one to as well.
It has a double handle so it can be used at a first proper cup but I am not sure you would want to use porcelain with a wee one. This really is a collectable but it can be used day to day and is microwave safe and dishwasher safe too.
You can Click and Collect the Hungry Caterpillar Double Handed Porcelain Mug for FREE or you can opt for home delivery at a cost of £3.