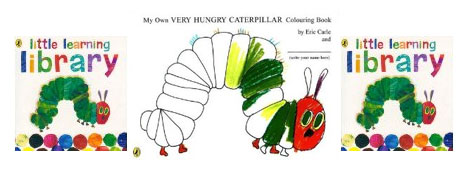 Amazon have some rather nice little Very Hungry Caterpillar deals at the moment!
Just because you and I know about the Very Hungry Caterpillar that doesn't mean that EVERYONE does, and I feel it's my social responsibility to make sure that no one slips through the net!
I can, hand on heart, tell you that the Very Hungry Caterpillar book and toy gift set is lovely - I bought it for Tamsin's daughter back in July and she LOVED it! All 17 reviewers have given it five star glory.
I have my very own copy of the Very Hungry Caterpillar Colouring Book; I actually bought it for myself after my mum bought one for my youngest a couple of Christmasses ago.
It broke my heart seeing the pictures coloured-in toddler style, so I got one and felt much better seeing them all beautifully shaded with no colour outside the lines.
There are anniversary edition pop-up books, My Little Library Very Hungry Caterpillar books and even the book with an audio CD.
If you adore the tale of the Very Hungry Caterpillar as much as I do, then you'll be like a kid in a sweet shop (or a caterpillar in a cabbage field) looking through all the different Very Hungry Caterpillar things up for grabs!