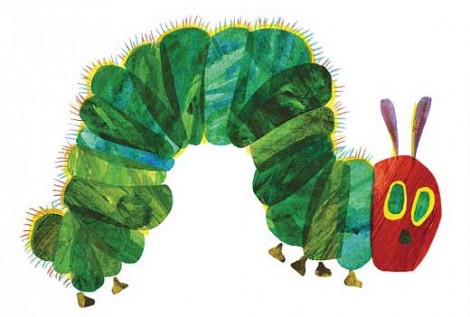 I ask you, is there a better way to start the day than with something Very Hungry Caterpillar, like this The Very Hungry Caterpillar Card Game 
My heart jumps with delight and warm fuzzy childhood memories whenever I see the Very Hungry Caterpillar. He was first published in 1969 – did you know that? – and not only is he an iconic story from MY childhood but in almost every childhood since.
There's something about the story of this very hungry fellow just doing what he needs to do to NOT be hungry and then turning into a butterfly that was absolutely captivating to me as a child.
I've yet to see, or hear of, a child who's read The Very Hungry Caterpillar story, not poked their fingers through the holes and giggled at all the things he eats, then puts the book down and says, "I didn't like that story, it's a bit rubbish!"
The Very Hungry Caterpillar Card Game is part of the collection in the 'game drawer' in my youngest's classroom and all the kids love playing it.
You follow the Very Hungry Caterpillar through cards as he makes his way to becoming a beautiful butterfly, but you must be careful because too many party foods will slow down your progress!
It's an awesome little game and will only cost you £1.49 from Play.com instead of £2.99.
Thanks to andywedge at HUKD