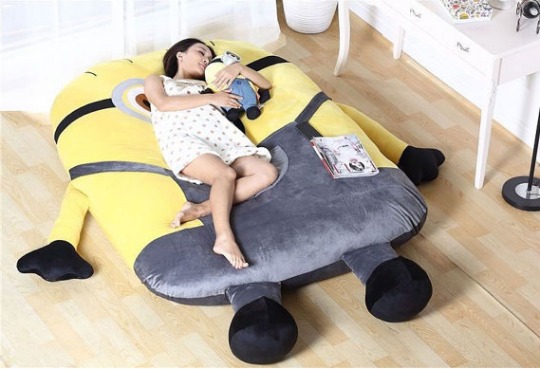 I saw a picture of the most amazing Minion bed today and I've been trying to track it down.. and here it is! This is listed by a seller on Etsy as a "Despicable Me Minions Huge Comfortable Cartoon Bed Sleeping Bag Pad Big Gift". That seems a bit of a mouthful, so I'll call it a 'Sleeping Pad'.
It's basically a huge cushion that looks like a minion, and it's large enough for the grown woman in the pictures to lounge on it gracefully having a snooze or just striking a pose.
Etsy have it listed at £65.38 plus shipping costs from the US, so this is not the manufacturer but a seller, and if you are considering buying one then although this is the best price I can find right now there may be other US sellers who can do this cheaper. Amazon US have it for $339 which is a hell of a lot for a big cushion, even one as cute as this!
So what do you think? Looks pretty comfy doesn't it?