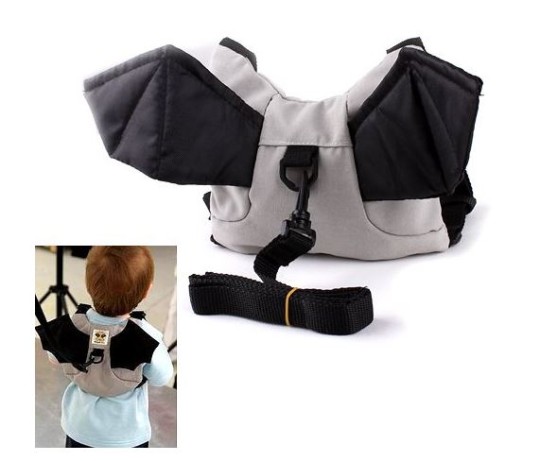 Earlier in the week we shared the ladybird backpack kids harness with you, and you loved it, so now we want to tell you about the HugBaby Bat Baby Safety Harness, the perfect bag for boys and the occasional little girl that I'm sure will love it too.  The backpack harness is £2.26 delivered to your door.
The link will take you to the sellers' pages for Amazon, but you'll find it there! I haven't tried these bags myself, so can't speak from first hand experience, but they are dead cute. The reviews on it are also quite good, with the bigger of the complaints being that it's quite small - big enough for "to put a juice or small water bottle inside" apparently. But then it's really more about being a harness than a backpack - toddlers shouldn't really be carrying a lot on their backs anyway.
A reviewer also said that they no longer have struggles getting reins on and I can totally believe that - the kids will want to be Batman with this bag.
You can remove the tether to turn the reins into a backpack, for what that's worth, but more importantly, there's a swivel strap to prevent tangling. And, something I consider a big bonus with all child-targeted products: It's machine washable.