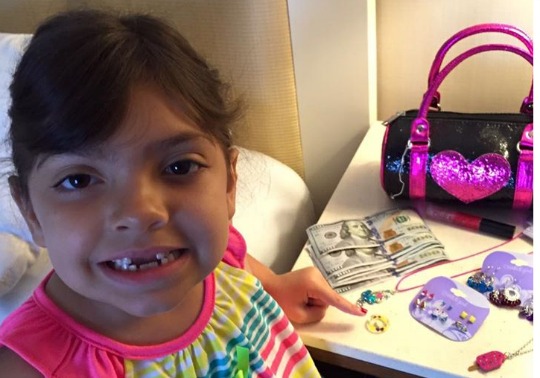 I spat out my tea when I saw that on Ex-Teen Mom Cast, Farrah Abraham's Facebook page that the Tooth Fairy she had gifted her daughter Sophia $600 (plus gifts) for her front two teeth. My children get a fiver per tooth and I thought that was generous enough.
That got me thinking how much does everyone else give? My friends give £2 per tooth, but my defence of giving a fiver is that I got £1 back in the 80's for my pearly whites.
PlayPennies Karen then showed me some pretty interesting "statistics" about how much some areas in the UK give on average per tooth.
The results come from a study of 1000 parents, living in the UK, with children aged 5-14, undertaken by The Magic Door Store (Fairy/Elf Door Retailer) and conducted by conducted by OnePoll.
Here's what they suggest:
1. Belfast £1.76
2. Newcastle £1.43
3. Edinburgh £1.42
4. Cambridge £1.36
5. Manchester £1.34
This study also implies that "in the last 12 months alone, our kids' pearly whites have cost the tooth fairy a staggering £19.8 million.".
That's a lot of money that us parents are popping under the pillow. We want to know how much you give! Come to think of it, we want to know what you do with all of those teeth.
Image Credit: Farrah Abraham Facebook