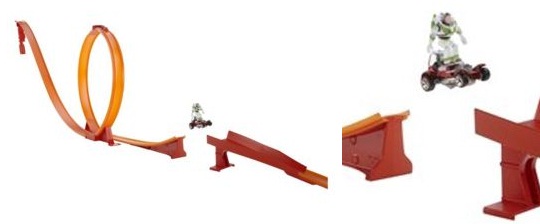 Falling with style. I seem to do that just about every day, tripping over air mostly. Although come to think of it I'm mostly doing the falling bit, and skipping the style. This Hot Wheels Toy Story Tracket Falling With Style is reduced from £16.99 to £8.49. That's a saving of £8.50.
You'll be really popular turning up to parties with this sort of present. Definitely one to stock up on. Also a great addition if your little one is a fan of Hot Wheels. All the tracks fit together (I think, but I would check on that if I was you).
Delivery is free if you can collect the toy in a store. For home delivery there's a charge of £3.95 or £4.95 if you want it next day.
This Hot Wheels set is based on the scene in the first Toy Story movie where Buzz, still convinced he's a real space ranger, shows Andy's other toys that he really can fly. At the end Woody comments that that isn't flying it is "falling with style!"
The Hot Wheels Toy Story Trackset Falling With Style playset includes a single loop track, and a Hot Wheels Red Baron 1:64 scale die-cast vehicle.
Adult assembly is required. And according to the description it is not compatible with some Hot Wheels vehicles. Also, it is suitable for children aged 4 years and over. And interestingly there's a note that the toy comes with a 1 year manufacturer's guarantee.
Thanks to littlesooten at HUKD!