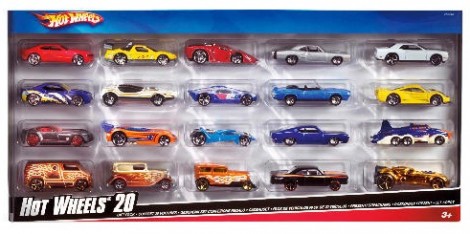 Looking for something to pop into party bags? Well, I am, with son's birthday a month away. Tesco has this Hot Wheels 20 Pack Diecast on sale for £8. That works out at 40p a car. We've only got 10 children coming for the party, but I can use the extras possibly as prizes or put them aside for next year.
The pack was originally on sale for £20, then it was reduced to £10. Now it is down even further to £8. So there may not be too many left. Delivery is free if you can arrange for a collection at a nearby store. Not all the stores do collections though, so check there's one around you before you order.
At this price it can also make a good item for the birthday present drawer.
You get twenty 1:64 scale die-cast vehicles in the box. According to the website, colours and sizes may vary. Hot Wheels are pretty cool cars, and are just about as popular with the grown up boys as they are with the youngsters. I know my husband gets really excited every time my son gets given one, or spends his pocket money on one. Apparently they're all based on real, actual cars. And most of these you can find footage of online too. I say apparently because I have zero interest in stock car racing, and custom cars myself, so really I have no idea!
The recommended age for these cars is three plus. Although my son was ready for toy cars way before that. Even from the age of one he used to get little blocks and push them across the floor making zoom zoom noises.
Thanks to Brozy at HUKD!