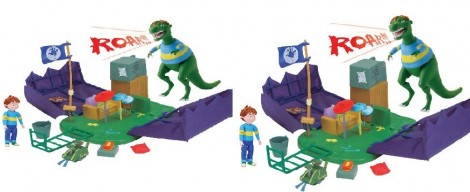 The Horrid Henry Purple Hand Gang fort playset has been marked down from £29.99 to £7.49 at Tesco which is a saving over half the original price. There are only a few left in stock so you're going to need to put some speed on if you want to nab one of these.
The Horrid Henry Purple Hand Gang for is a playset that includes a five inch Horrid Henry figure, a T-Rex that has built-in electronics and makes all sorts of terrifying noises, a sofa and a flag pole.
You can use the kit to create your very own fort and Horrid Henry sagas and dramas. Crush the other toys with your dastardly T-Rex, snooze away the afternoon on the sofa, wave your flat defiantly at your mum when she tells you it is time to bath!
The Horrid Henry fort looks pretty darn cool and will definitely amuse fans of the series, and it will amuse you with its ace low price.
Thanks to AATS at HUKD!