Hornby Thomas And Friends Passenger And Goods Train Set For £69.99 @ The Toy Shop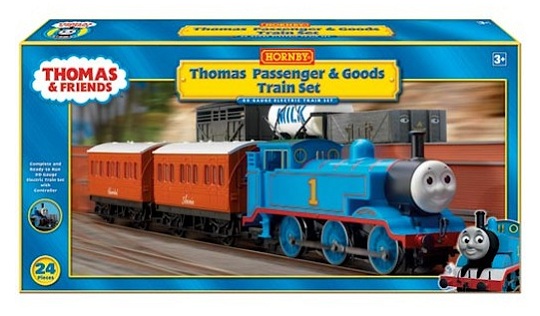 Save a lovely 50% on the fabulous Hornby Thomas and Friends Passenger and Goods Train Set that was £139.99 at The Toy Shop. It's now on offer for £69.99, smashing.
This is a real winner for all those Thomas and friends fans out there. Let you children bring their favourite Thomas characters to life on a journey around the Island of Sodor with this fantastic 24-piece set based on the loveable blue locomotive and his pals.
You'll need a space measuring 155cm by 113cm to lay out this cool set. Included in the set you'll find an electric Thomas locomotive, Annie and Clarabel coaches, an open wagon, milk tanker, and even a cattle wagon. The trains fit onto an oval track with a siding and the whole lot go onto a mat. A power supply unit motors the train which moves around the track using a train controller.
Let your kids re-enact their favourite Thomas & Friends adventures with the Hornby Passenger and Goods Train Set, they'll have hours of fun.