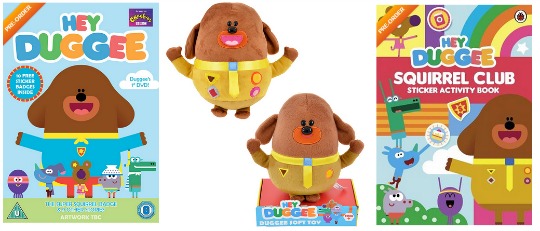 Have you heard of Hey Duggee!? Chances are you only have if your pre-schooler watches CBeebies, but it's one of those shows that is so happy and positive that it's fun for everyone. With the Alexander Armstrong narration I always think of Peppa Pig - it's that sort of good clean fun. Duggee is like a scout leader, and the kids are 'Squirrels' rather than cubs, trying to earn a different badge each time.
The good news for little Duggee fans is that there is a new range of toys, books, DVD's and gifts coming, and you can pre-order them now at the BBC Shop.
The best seller is likely to be the big pooch himself, and the soft toy of Duggee is £9.99, or the big one that talks (well, Duggee only says "Woof!") is £24.99. Both of those soft toys are suitable from 10 months of age.
There's also a pack with three figures for £9.99, a set with figures and the Squirrel Club playhouse, along with a DVD, book and activity pack.
Other stores will be selling these, and some like Amazon you can request an email when you can order, but the BBC Shop pre-orders are open now. The BBC Shop also has a price promise on these pre-orders so that if the price does go up then you will always pay the lower one.
The other bonus of ordering from the BBC Shop direct is that they have free delivery on everything, which is not the case with the other retailers.
The only downside is that they don't say when the toys will become available, so have a back up plan if you have them in mind for a birthday!