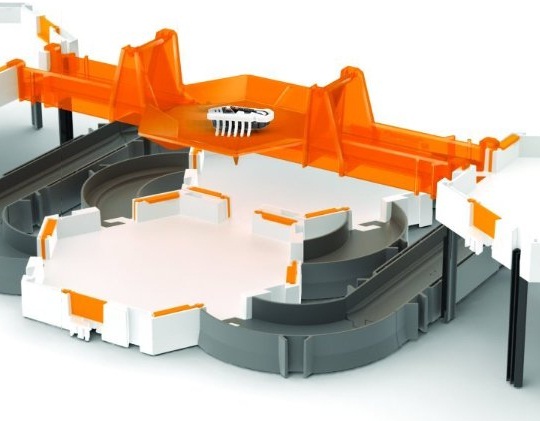 My son spent his birthday money on this Hexbug Nano Bridge Battle Set the last time it was reduced to £14.99 by Debenhams. Its normal price is £29.99. Frankly, if I bought the set for that I would not be happy. At half the price though, this is a pretty good Hexbug set for fans of the little robotic critters. If you've a birthday coming up or for Christmas it is worth putting one aside.
What I liked about the set are all the different formations you can make up, and do so over two levels too. The bridge is designed so the bugs can fall off it, and onto a level underneath.
I also really like the packaging it comes in - very easy to use it to put the set away when it isn't in use.
What I don't like is that the little critters eat their way through those hearing aid style batteries like there's no tomorrow. Costs a blimmin fortune!
The kit includes 2 rare Nano specimens and 29 easy connect pieces to help you create the ultimate battleground for your Hexbug Nanos. Nanos enter the arena through one-way gates and battle against each other until only one remains. A mix of curved, straight, hex cell and standoff pieces give you the freedom to get creative and see how many ways your Nanos can battle. The HEXBUG Bridge Battle Set requires 2 x LR44 batteries - included - and is suitable for children aged 3 and above.