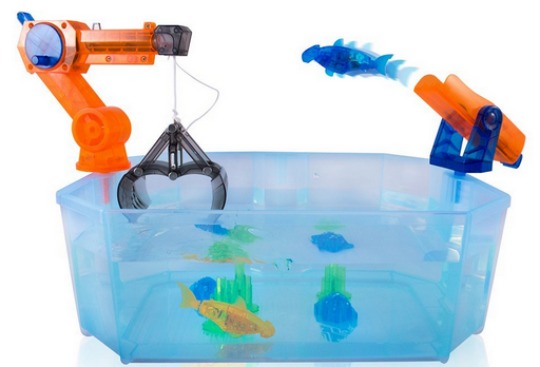 Let me start by telling you I paid £39.99 for this out of John Lewis in January, for my son's birthday. Sick as a parrot, but that's what happens I guess. You can get it for just £9.99 from Argos and the same from Amazon, as they have price matched. John Lewis aren't the only ones to sell this for way above £10, as Toys R Us are £29.99 for one. To get it at £9.99 from Amazon, look down the right hand side.
Since getting it, both of my sons have constantly fought over the HEXBUG Aquabot: The Harbour. That to me is the sign of a good toy. This is also one for the adults to have a go on once the kids are in bed.
Inside the box you will get.... a Tank, two Aquabots Hammerhead Sharks, five vibrant Pieces of Coral, a Launcher and a Crane. The Launcher is the bit that my kids LOVE. It's been played with that much that I am shocked that it is still in one piece.
To conserve batter life the Aquabots automatically switch off after five minutes but you can waken them up again by tapping on the tank.
You can reserve and collect this for FREE from Argos. To get FREE delivery just spend 1p or more at Amazon.