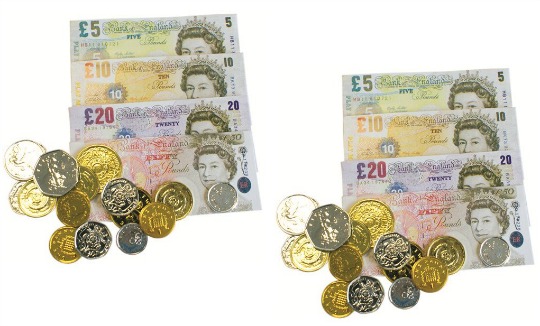 There's not many things nowadays that you can get for £1.04 delivered, is there? If your child digs role play games or has a play shop then this is the deal for you. We all owned play money at some point in our lives but it never looked convincing. I am not so keen on a lot of it that's on the market. Look at this Henbrandt Sterling Play Money from Amazon Seller Simply Direct Ltd, it looks the part and is only £1.04 with FREE delivery.
In the Henbrandt Play Money Set you get a mixture of realistic looking coins and notes. Your child will feel rich with what looks like the real deal. You might want to explain to them that they cannot spend it at Tescos, though.
This Henbrandt Play Money is suitable for children aged three and above. Don't think of it as a babyish toy as this is the kind of thing used in schools to teach. Whether it's numeracy or just using money skills, using these can act as a visual aid.
These are a bargain, so grab yours now!