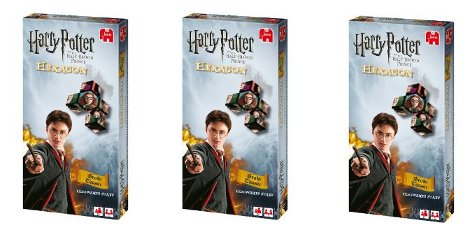 There's a very generous 60% off the Harry Potter Hexagon Hogwarts Staff Jigsaw Brain Teaser Game which has been reduced to £.80 from £6.99.
A rather unusual game, but I'm sure it will be a hit among the Harry Potter fans of the world. At this price, it'll also make a fab little stocking filler – especially since the only review says that it's hard at first, but really easy after, so it's entertainment value is not going to last terribly long.
The Brain Teaser Game features 10 hexagon puzzle pieces each represent three different characters from the story. Each puzzle piece contains a different section of each character for you to test your puzzle skills.  You need to complete the 10-piece puzzle hexagon with each character fully assembled on every piece when the shape is fully formed.
On the reverse of the puzzle pieces, there's a simpler game, which is to assemble the logo from Harry Potter and the Half-Blood Prince.
There's also an hour glass and score sheet included to turn it from a single person game to a challenge among different players.