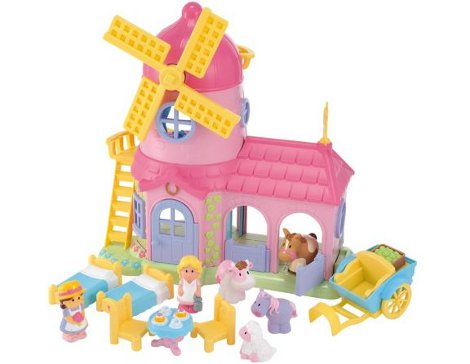 The ELC Happyland Windmill Farm is on sale at Boots Online at the moment, with £7.66 off. It's now £22.98 instead of £30.64.
Happyland is one of those collections that I'm simply too afraid to even look at too closely, and certainly don't want to introduce my daughter to, because I fear that doing so might become very costly for me. They're not cheap toys, but they do seem to be good quality and far as I can tell, the collection is pretty endless.
I saw a Happyland collection at an ELC event recently that had almost every member of society present! While that's really great fun, my back pocket groaned at the thought.
So, this Happyland Windmill Farm has, as you'd imagine, a windmill, the sails of which play a tune when the sails are turned. There's a horse who can pull an apple cart, and a crate of apples that goes in it.  You also get a table and two chairs, and two beds around the farm house.
Included with the farmhouse, you receive two Happyland girls and six animal figures (according to the description, but four according to the image!) and the Windmill requires 3xAAA batteries.
Thanks to fittermama at HUKD