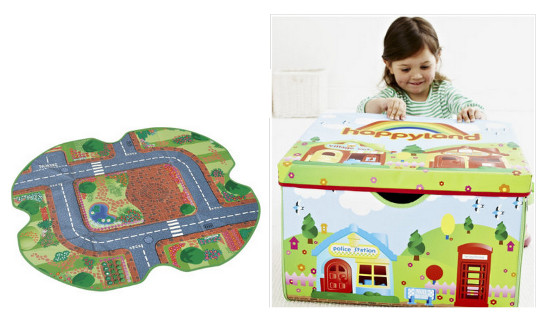 The Store And Play HappyLand toy storage at ELC is reduced at the moment from £22 to just £11. There's free click and collect otherwise add  £2.95 for postage.
It may seem like I have play and organising things on my mind right now, since this is the second toy storage related post in one day, and I cant really come up with a good excuse. I have always thought, however, that it's better to run out of things than storage space for those things, so this shed should help by providing extra space around the house.
A fantastic backdrop for HappyLand adventures and a practical storage case in one, this store and play box is great for on the go play. It is a lovely box for bedroom storage, keeping toys organized in themed bins zip up for a quick clean-up.
Alternatively you can fold the playmat out and use it for playing on. The mat zips up into a sturdy storage case and the underside of the lid doubles as a play tray. It also has a water resistant easy to clean surface.
Thanks to p_dickinson at HUKD