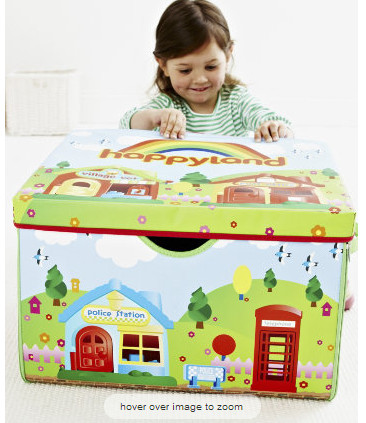 HappyLand storage boxes are reduced from £22 to £11 but read on about how you can get this for  £8.80 each.
Toy storage seems to be a constant struggle in my home, and no sooner have I managed to arrange something, than there's a new influx of toys and my storage is too small and just not working in the space I envisaged. We get rid of as many toys as come in, but I never really seem to be on top of it. I don't honestly think that the price of toy storage really helps much, and this box is no different! I'd need at least six for existing things, and would probably want a couple extra to get us through a few months and at least one more birthday or Christmas, right? So at £22, that would be £176, which  is a huge outlay.
At least with the reduced price of £11 you could get away with all you need for under £100, assuming you don't need more than 9, that is. However, if you use the code VXXN, apparently, you get it for £8.80, which is a huge saving on an actually very pricey £22.
The nice thing about these boxes, is when they're not in use, they can make a floor play mat, which is great. You don't get the HappyLand figures with the boxes, but the mat zips up into the storage case, and the lid doubles as a tray, with easy water resistant surfaces for cleaning.
Playmat approx size: 99cm W X 89cm L. Storage box approx size 45.5cm x 36.5cm (L) x 29.5cm (H)
Thanks to Saintledger at HUKD