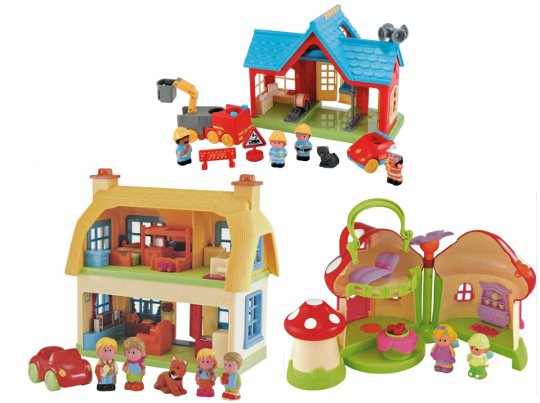 There are great savings on some items in the HappyLand range at Argos at the moment, with around a 1/3rd off some sets.
I've always loved the look of these little HappyLand set and we've owned a couple ourselves. I think a room full of them would be so much fun: a whole little HappyLand visit.
The Toadstool Cottage has a carry handle to take your fairy toadstool along with you wherever you go. It comes with a toadstool cottage, two fairies, a fairy bed and a petal table.
The Fire Station comes with a fire engine, fire chief's car, 5 figures, road sign and station cat.
Rose Cottage is owned by the Barleys, who can drive the car, talk on the phone, cook in the kitchen or relax and watch TV. The Barley kids can play hide and seek, run around, help around the house or take turns in the top bunk their bedroom. The doorbell makes real ringing sounds. The house includes four figures, furniture, a car and a pet dog.
A cottage, resident fairies for the garden and a fire station? Sounds like the start of a village to me!
Thanks to clairees at HUKD