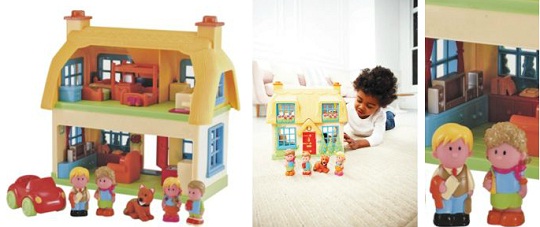 I bought the Happyland Rose Cottage Playset  for my son when he was 2 years old, and he just loved it. The cottage became one of his absolute favourite toys, and its one I've not been able been allowed to pass on yet, even though he outgrew it ages ago. Argos has the Happyland Rose Cottage Playset on sale, marked down from £24.99 to £14.99.
This is no longer available for home delivery, however there was stock left in the ten stores closest to me when I checked. Stocks were low though.
I chose this particular playset because it looked robust and hardy enough to stand up to the challenges of a little toddler who likes to throw things around a bit. My son just desperately wanted a dolls house. It was actually quite tough to find something in the shops that was coated in radioactive pink (I wouldn't want to buy that for a girl or a boy personally, but that's just me!).
It was a lot of fun watching him role play with the set. And an interesting insight into how he saw us. My husband was working long evening shifts at the time, and the father figure in the playset was immediately put to bed for a sleep! My son decided that the newspaper the father was holding was a big bar of white chocolate (not that we eat that much chocolate mind you! It is understandable as there's nothing on the newspaper to make it clear that's what it is supposed to be).
Mum and Dad Barley can drive the car, talk on the phone, cook in the noisy kitchen, or relax and watch TV.
Poppy and Charlie Barley can play hide and seek, run around, help around the house or take turns in the top bunk in their bedroom.
The doorbell makes real ringing sounds.
Includes 4 figures, furniture, car and pet dog.
It still looks pretty much as good today as it did when I bought the cottage. The only slight problem is that the front door can be taken off. It can be clicked back into place quite easily, but it did mean a few years of hunting the door through his toy boxes.