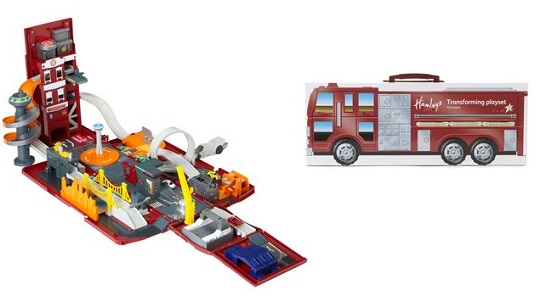 If you're looking for a cool boy's gift then go to Hamleys to save a lovely £10.00 on the Hamleys Fire Station Play Set exclusive to Hamleys. The cool fold-out fire station has been reduced from £40.00 to £30.00, awesome.
The Fire Station Play Set from Hamleys is the ultimate two-in-one activity centre. It is easily converted from a fire truck to a fold-out play scene. The fun-packed fire truck is concealing a new world of play that can easily be transported and tidied away. As well as featuring a large fire truck with accessories and an extendable ladder, this fire truck folds out into an entire city with a network of roads, bridges, shops and buildings.
The Hamleys Fire Station Play Set is every little boys (and maybe some girls) dream with super cool firemen's ladders, ramps, bridges and cars. The play set is easy to assemble in minutes and comes with a variety of accessories and vehicles for hours of role-play fun. The set also comes with detailed instructions and stickers.