10,000 Hama Beads £6.66 Was £14.58 @ Amazon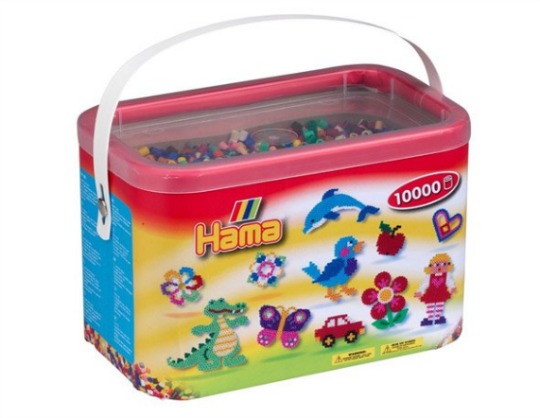 This box of 10,000 Hama beads is on special offer at Amazon right now, down to £6.66 instead of £14.58.
Not having had a daughter until very recently, I've yet to get to grips with the craze that is Hama beads but every little girl I know loves these things. (Though that's a fairly sexist comment - I'm told boys love them too but my lads just haven't yet come across them.)
Anyway, apparently they are tiny plastic beads which you can string, press or even iron to make all sorts of funky pictures and models.
There are 71 reviews of Hama beads on the Amazon website and here's a fairly typical one:
"We have been huge fans of Hama beads and kits in this house for a couple of years now. My 7 year old makes bracelets and then melts down imaginative pendants for them. She has made picture frames, dolls for removable paper clothes and all sorts of peculiar looking monsters. One recent creation was a hama-bead charm bracelet! My 4 year old son makes pictures of cars, dinosaurs and traffic lights and then plays with them. It is a simple concept. Put small plastic beads onto a plastic board to make a picture. Use some baking paper to iron (on a low setting) to melt the beads together, and then peel the picture off."
Supposedly they're even safe if accidentally swallowed...! Did I mention that there are 10,000 beads in this box though? Just don't go spilling them all over the kitchen floor.
With thanks to carloszoe1982 @ HUKD