Hallmark Christmas Review - Story Buddies And Bellissma Greeting Cards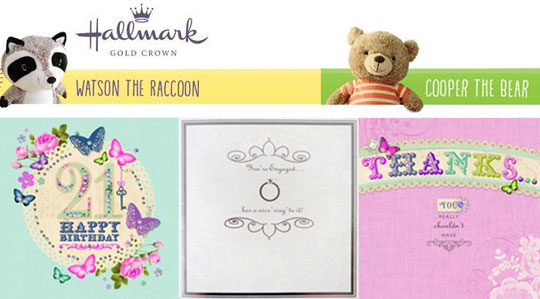 I know it's not October yet (but almost); I know the clocks haven't gone back and that Halloween hasn't even been yet, let alone gone.
And I KNOW it seems hard to believe that 1 December is a mere nine weeks away when, today, we're basking under clear blue skies with temperatures of at least 26C but Christmas is coming, I promise you, and it's time to start getting organised.
Hallmark sent us a Story Buddy, along with some samples from their new Belissma greeting card range, which we sent off to Theresa, one of our PlayPennies mums, to review on our behalf.
Hallmark Interactive Story Buddies
This is a bit of a sneak preview of these Hallmark Story Buddies as they're only going to be available to buy online, and in Hallmark Gold Stores, from this 1 October (this coming Saturday).
At the moment there will be three characters to choose from - Watson the Racoon, Cooper the Bear and a limited edition Jingle the Husky Dog, especially for Christmas - more loveable cuddly friends are expected to join the gang in the New Year; we sent Theresa a Copper the Bear Story Buddy.
Each Story Buddy comes with their own story book and uses some rather clever technology which prompts your buddy to speak and join in once the key words from the book are read out loud.  Theresa laughs, "This sort of technology would probably have been labelled as some sort of 'dark magic' when she was a kid!"
Apparently, Cooper was an instant hit with Theresa's daughter from the moment he was handed over the threshold by the postman, "My daughter has refused to let Cooper the Bear out of her sight since he joined our household and took great pride in showing her dad how he worked," she says.
Theresa and her daughter duly settled down somewhere quiet with Cooper - and Theresa says you need to choose somewhere quiet otherwise you might struggle hear what your Story Buddy has to say - opened his story book and pressed his ear.
"Cooper sprang to life," tells Theresa, "and said "Read me a story".  Not one to disobey a direct order from a teddy bear, I read his story to my daughter.  Every time I read the key words, which are highlighted in bold, Cooper responded with cute noises and sayings that match the story.  My daughter was UTTERLY enchanted."
With regard to the actual story, Theresa says, and I quote, "...it's no Julia Donaldson," but she does say she is relieved that Hallmark haven't haven't compromised on story over the technology; she gives the story accompanying Cooper the Bear a 7 out of 10.
As for Cooper himself, Theresa reports that he's extremely well made, very soft and cuddly, and the hard technology bit is somewhat padded at his back, "The hard tech' does stick out a bit at the back but you really can't avoid that," she explains, "otherwise he wouldn't 'hear' the key words."  
The overall verdict, however, is that he's more than comfy enough to cuddle up to at night time when story time is over.
It was all looking good for the Story Buddies until Theresa told us that she was a little less than impressed with the technology inside their Story Buddy, describing it as 'patchy'.
"The instructions do say that the bear has to be read to in a quiet room and that you need to enunciate, but despite adhering to both rules our bear was a little uncooperative at first," she explains.
"To be fair he did respond increasingly well as we proceeded through the story - almost as if he needed to warm up - and his little voice is exceedingly cute," continues Theresa, "However, even with our attempts at providing him with ideal conditions, a fidgeting child is going to cause all sorts of interference."
Bearing in mind the Story Buddies are designed especially for children, this is a definite point against them as far as Theresa is concerned.
Each Story Buddy will be selling for £19.99 which, we all think isn't a bad price for a book and this sort of interactive toy.
As a whimsical 'oh look I think that's cute and I'll buy it' kind of thing, as Theresa put it, perhaps a little on the expensive side, but as a main Christmas or birthday present then maybe not so costly.
We asked Theresa whether or not she would actually buy a Story Buddy...
"I'm not sure, if I'm honest," she confesses, "I like gadgety stuff but this doesn't quite have the staying power in our house."
She went on to explain that whilst her daughter absolutely loves Cooper, she hasn't asked for the story again and can't say, with certainty, whether or not he's just a passing fad.
"Having said that," she concludes, "I think that very much depends on the child and seeing the expression of amazement on my daughter's face when Cooper spoke, was worth every penny."
You can download an app for the iPhone, or iPad, to accompany your Story Buddy which tells a story about the characters as well as offering puzzles and games to play.
You will also be able to buy additional books, for £5.99, that contain trigger keywords too. Will the keywords be the same, or will Cooper and Co have hidden talents that are just waiting to be revealed in the news stories? We'll just have to wait and see!
Theresa gives Story Buddy 'Cooper the Bear' an overall score of 7 out of 10.
Hallmark Bellissima Greeting Cards
Hallmark describe their new Bellissima greeting card range as...
A beautiful collection of exquisitely handcrafted cards perfect for those looking to express simple yet meaningful messages to loved ones.
There are 39 designs in total, with all wording in elegant typefaces, are presented on either pearlised ivory or white linen embossed board and carry an rrp of £2.99.
Each card is hand-decorated with intricate, unique and very carefully applied bits and pieces and come with pearl envelopes to make them just that extra special.
"I received five different Hallmark Bellissima cards and they are really gorgeous!" says Theresa.
"The 'Happy Birthday Daughter' card has a pearl finish with a stunning pop-out style design that enchanted my daughter," she continues, "I loved it and really didn't want to write on it."
Theresa also shared her views on the internal copy of the cards, "I am NOT a fan of the gooey icky copy inside the cards I was sent though."  
We're all in total agreement with Theresa on this one - vomit-inducing messages in cards are a definite no-no.  She continues, "While a beautiful card can be a pleasure, it seems almost limiting to have copy that's as flowery as the design!
Theresa admits that this is a very personal thing and that many people probably appreciate flowery text, but it was a negative point for her.
"Less included copy and more about space for me to write my own message, PLEASE!" she exclaims.
Theresa is of the opinion that the Bellissima cards are of excellent quality, "But then you expect quality from a company who made its name from cards. These are the kind of things you'd buy for someone really special as the detail is stunning."
There was just one card that really got a thumbs down from Theresa, "The card that gets the least points is the one for 'My Son's Birthday' - it's w-a-y too flowery for any guy to appreciate, as far as I'm concerned."
But for the rest, Theresa was happy to give them top marks for quality, design, colouring and overall price.
"I'd say that as a range of cards for special occasions and to show you care, these really do stand out," she concludes.
And finally...
Cooper the Bear Story Buddy could end up being a big hit or a bit of a miss and, unfortunately, there's no way of telling what he'll be for your child until you've bought, and lived with, him for a while.
Theresa's daughter adores him but the novelty of story times with Cooper seems to have worn off quite quickly.
As a whimsical purchase, Theresa feels he's quite expensive and is undecided whether or not she'd actually buy a Story Buddy; it would appear this is something that either appeals to you, or not,  just as much as for parents as for children.
Theresa was more impressed by the selection of Hallmark Bellissima cards.
The only negative points for her was the overtly feminine and flowery design for the 'My Son's Birthday' card and the far too sickly-sweet messages on the inside.
Taking into account the very high quality of the designs, Theresa feels that £2.99 price tag is more than acceptable.
Remember, Story Buddies aren't available until 1 October and the range of Bellissima cards can be bought from selected Hallmark branded stores, high street card shops and selected supermarkets.