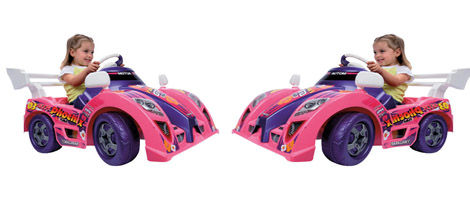 The GTA Phoenix electric car has been marked down to only £89.97 including free delivery at Tesco which is a neat saving of £50 off this enormous toy. This is the uber Christmas present for any little girl and would definitely make their day.
Originally retailing for £139.97, the car is a single seater 6v machine that has both forward and reverse gears. It also has a foot accelerator and a brake and both the battery and charger are included in the package.
The car is ideal for kids aged two and up, looks pretty zooty, and is ace for helping kids develop their coordination skills. Actually, this is one heck of a present for developing coordination skills if you ask me! If I had enough room in my house I'd actually consider getting this.
I would have loved one of these when I was a kid. Wow. So if you happen to have a big budget and are looking for something to really knock the socks off your kids this Christmas, then this electric car will do the trick.
Thanks to christopherguy25 at HUKD!