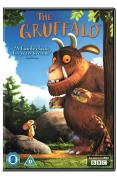 There's no such thing as a Gruffalo...didn't you know?!
Just in case you've only recently arrived from Mars and have no idea what this 'Gruffalo' thing is I'm talking about, here's the skinny:

The Gruffalo is a monster; he has terrible tusks, and terrible claws, and terrible teeth in his terrible jaws; he has knobbily knees and turned-out toes and a poisounous wart at the end of his nose. Scary huh! Everyone in the deep dark wood seems to think so...apart from a clever little mouse.
The Gruffalo really has captured the imagination of the nation and there are few things that have yet to have the Gruffalo stamp put on them...like fresh air, although I'm sure it's coming soon to a store near you!
Play.com have a fair few Gruffalo items going for a song just now so if you have bits missing from your collection or want to add more then pay them a visit.

Then of course when you've done The Gruffalo to death you can move on to.....The Gruffalo's Child (watch out for the never-ending sequels: The Gruffalo's Aunty, The Gruffalo's Uncle, The Gruffalo's Grandma, The Gruffalo's Great Uncle George....)
Delivery on all of things Gruffalo is FREEEEE!