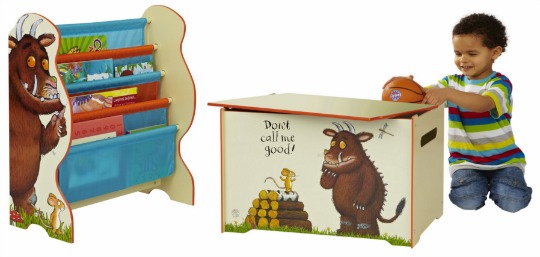 These lovely storage solutions are ideal for little Gruffalo fans, and they are great value as well. Amazon are selling the Gruffalo Sling Bookcase for just £32.99, and the Gruffalo Toy Box for £39.99, and both of these include free delivery.
The sling bookcase has four fabric compartments ideal for toddlers to keep their books tidy and easy to access, and the toy box is a good two foot wide and looks like it will fit lots of toys inside. Both items are made of sturdy mdf and feature beautiful copies of the original artwork from the Gruffalo books.
There is also a matching Gruffalo Storage Unit* with shelves and storage baskets included, but that is still full price at £49.99 so I think it's less of of a bargain, although it's equally as lovely.
All of these items qualify for free home delivery from Amazon as they are over £20. The last time we featured this bookcase it sold out really fast so fingers crossed you manage to get one.