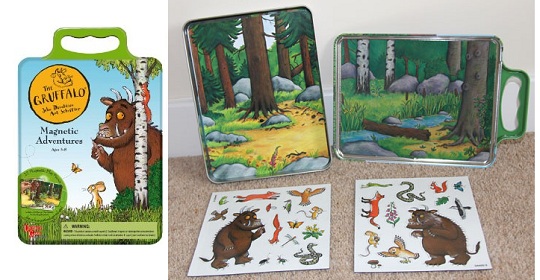 It may only have been around for just over a decade, but the tale of The Gruffalo has quickly established itself as a modern children's classic, with the original book spawning everything from a theatre production to a half-hour animated film adaptation.
Then, of course, there's the merchandise, such as this Gruffalo-flavoured Magnetic Adventures set aimed at children aged 3 and up.
It comes with two sheets of press-out magnetic shapes, each containing all the key characters from the story, along with flowers, insects, leaves, squirrels and frogs for adding detail.
The metal case itself serves as the background for these magnets to be placed on, with the inside of both the front and back of the case offering a typical forest backdrop on which kids can create their own Gruffalo adventure.
There are also two further backdrops on loose cards for added variation. Not being magnetic, these can't be used independently, but are thin enough to work when placed inside the metal case – or on any other metallic surface, such as a fridge door.
The look and feel is exactly what you'd expect from official Gruffalo merchandise, and everything is substantial and well made, though parents of younger children would do well to point out that the 27 picture shapes are in fact magnets that you push out, not stickers that you peel off – a lesson we learned the hard way, unfortunately.
Other than that, the Gruffalo Magnetic Adventures set delivers what it promises to: open-ended play and the chance for creative expression.
It's a shame that the set's overall size means the four scene backdrops are only a little bigger than A5 size, which can make things a little cramped especially given the size of the Gruffalo piece itself. But at under £10 it's reasonably good value, and you can always create larger scenes of your own to expand on its potential.
* Image: Mummybird