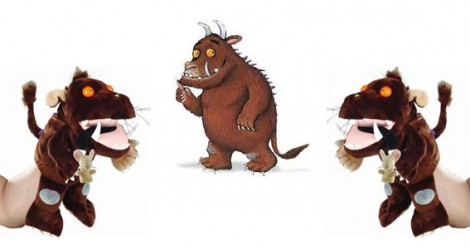 Amazon (and Play actually, should Amazon start being tinkering with their prices) are selling this Gruffalo hand puppet for £12.99 instead of £22.99.
We haven't had a Gruffalo post here on PlayPennies for a while - well I'm putting a stop to that right now with this AWESOME Gruffalo hand puppet; I'm completely and utterly head over heels with him.
It's lovely to see a new Gruffalo something on the market, it was getting a bit boring seeing those four-in-one jigsaw puzzles cropping up again and again; this Gruffalo hand puppet is like a breath of Gruffalo fresh air.
I can't believe that there's anyone on the planet who doesn't know who the Gruffalo is or hasn't, at the very least, heard of him.  But just in case...
The Gruffalo lives in the deep, dark wood. He has knobble knees, turned out toes and a poisonous wart on the end of his nose. Not only that, he has terrible tusks, and terrible claws, and terrible teeth in his terrible jaws.
This Gruffalo hand puppet would make a fabulous bedtime reading companion as he's big enough for an adult hand; I'm just imagining my youngest being completely enchanted with the Gruffalo 'reading' his own story.
What more can I say? If you're a Gruffalo fan I would imagine you're not even reading this anymore, you've already skipped over to Amazon and placed your order.
Thanks to Twinx at HUKD